Every year, UCCI recognizes entrepreneurs' efforts by honouring the best-performing enterprises. This year Arth Diagnostics center won UCCI Excellence Award 2018 in services – medium enterprises category. The diagnostics center received the prestigious award for being the best in diagnostics services.
Arth Diagnostics is one of the leading diagnostics centers in Rajasthan. Arth Diagnostics is the first and only centre registered with US and Europeon Union. The center is quality endorsed by AIIMS, New Delhi and Randox UK. This laboratory is particularly operated by team of highly qualified, skilled and experienced professionals. Moreover, Arth diagnostics center is proud to have National Accreditation Board for Hospitals & Healthcare (NABH) certification and is one of the few NABH certified lab in Rajasthan. Arth diagnostics center is committed to deliver the best in diagnostics services for the best treatment of patients.
UCCI Excellence Award 2018 For Best in Diagnostics Services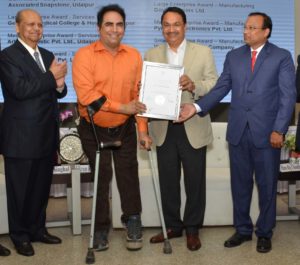 Arth Diagnostics center got UCCI Excellence Award 2018 on the basis of certain important parameters such as patients' satisfaction, quality of diagnostics reports, growth rate, best in diagnostics services, employees' satisfaction, external quality assurance, accuracy of reports and many other relevant parameters.  Dr Arvinder Singh, the CEO and CMD of Arth Diagnostics received UCCI Award by some of the most honourable core community members.
Arth Diagnostics center cater the needs of patients and doctors by offering innovative services such as home sample collection, pick up service, web reporting, high tech international diagnostics equipments availability, customer care helpline facility, etc. This diagnostics center particularly gives emphasis on providing best in diagnostics services to all age groups. The diagnostics center has most advanced machineries from the leading international brands.
Arth diagnostics center has availability of advanced clinical diagnostics tests which form basis of accurate treatment. Hence, it has become preferred choice of patients and doctors. At Arth Diagnostics center accurate and reliable diagnostics facilities are provided at affordable prices to its growing customer base. Currently, it has become the best in diagnostics services center in Rajasthan.
Arth Diagnostics center – Best in Diagnostics Services
Arth Diagnostics center also conducts periodic training of staff members to keep them updated with latest technologies. The staff members are particularly highly skilled and experienced. They are committed to provide the best in diagnostics services to all patients. The team members have got rich experience by serving millions of patients. Highly trained clinical staff and the modern diagnostics equipment ensure that Arth Diagnostics center to provide excellent and reliable services at all the times. The laboratory particularly aims to maintain the high quality reports and shortest turnaround time to maintain healthy customer relationship.
Arth Diagnostics center has strong focus on modern technologies that enable the laboratory to give the patients the best in diagnostics services. UCCI Excellence award is a great honour for this diagnostics center. This diagnostics center has also received various prestigious awards for its quality, standard and services.