The liver is one of the most important organs in the human body, providing a variety of activities critical to general health. A series of tests known as Liver Function examinations (LFTs) are an important part of monitoring liver function. This blog will go through the fundamentals of LFTs, their relevance, and what they may disclose about the health of your liver.
Understanding Liver Function Test (LFT)
A liver function test is performed to look for any damage to the liver. It also aids in the diagnosis of liver disorders. The liver function test can also detect bilirubin, a yellowish waste product generated by the breakdown of red blood cells, as well as other essential proteins. Thus, a liver function test in Udaipur can be used to determine whether or not the liver is working appropriately.
Importance of LFTs
The liver is in charge of several important activities in the body, including:
Any disruption in these processes might result in major health problems, therefore regular monitoring of liver function is critical.
Types of Liver Function Test in Udaipur

Factors for which LFTs are Suggested
Monitoring Chronic Conditions –

Patients with chronic liver illnesses, such as hepatitis or cirrhosis, may undergo frequent LFTs to monitor disease development.

Medication Management –

LFTs are sometimes used as part of routine health checks to detect liver issues before symptoms arise.

Symptoms –

LFTs can assist in detecting liver disease when patients display symptoms such as jaundice (yellowing of the skin and eyes), stomach discomfort, or unexplained exhaustion.

Screening and medication

 

management – Because some drugs can impair liver function, LFTs can help assess the impact and change therapy as needed.
Udaipur's Best Diagnostic Center for Liver Function Test – Arth Diagnostics

Liver Function Tests are a significant tool for measuring the liver's health and function. Regular monitoring can help detect liver disease early, allowing for timely management and better results. If you have questions about your liver's health or are experiencing signs of liver disease, speak with our healthcare expert who can help you through the necessary tests and treatment. Remember that a functioning liver is critical for general well-being, therefore keeping this vital organ in good condition should be a top priority in maintaining a healthy lifestyle. Contact Us for a consultation today.
Follow us on Facebook – @arth diagnostics
Welcome to Arth Diagnostics! Our advanced facility for Urine Test in Udaipur can help detect and diagnose a variety of health conditions. Conveniently located in the heart of the city, we offer a variety of test options to best fit your healthcare needs.
Types of Urine Lab Test in Udaipur Offered by Arth Diagnostics
Basic Urinalysis: Provides information about medical issues with a quick urine test. Basic urinalysis gives crucial information by analyzing physical and chemical parameters.
Urinary Tract Infection Test: This test swiftly detects bacteria or other microbes in your urinary system, demonstrating the severity of an illness, rely on us for efficient service and precise information.
Glucose Urine Test: Identify diabetes or other metabolic problems by using a glucose test to detect elevated urine sugar levels. Prioritize your health first and get tested right now.
 Kidney Function Test: This test measures kidney function and is crucial for diabetic or hypertensive individuals. essential for keeping track of general wellness.
Why Urine Test Are Done?
Urine Analysis Test in Udaipur is performed for a variety of reasons because it offer valuable information about a person's health and can aid in the diagnosis of a number of medical issues. Performing urine tests is frequently done for the following motives:
Routine Check-Ups: Urine tests are performed as part of routine medical examinations to evaluate general health and look for any early indications of potential medical problems.
Urinary Tract Infections (UTIs): Urine tests can detect the existence of bacteria, white blood cells, or other signs of illness in the urinary system in cases of urinary tract infections (UTIs).
Kidney Function: Urine tests measure the amount of chemicals like creatinine and protein, which might signify kidney damage or disease.
Diabetes: Urine tests may be used to identify diabetes in some circumstances or to monitor glucose levels in people with diabetes.
Liver Function: Certain chemicals in the urine can be an early sign of illnesses or issues with the liver.
Pregnancy: An hCG hormone test in the urine can determine whether you are pregnant.
Drug Testing: To check for the presence of drugs or their metabolites, urine tests are frequently employed.
Dehydration: Urine concentration can be a sign of dehydration or excess hydration.
Metabolic problems: Urine testing can identify several metabolic problems.
Other Conditions: Urine tests can help in the diagnosis of illnesses like kidney stones, abnormalities of the urinary tract, and malignancies of the urinary tract.
Importance of Urine Lab Tests
Early Detection of Diseases: Through urine lab testing, medical conditions can be identified early, allowing for proactive intervention and therapy that may address problems before symptoms appear. By taking a preventative approach to healthcare, both patients and healthcare providers are better equipped to deal with health issues.
Health Insights: Highly reliable urine lab tests provide critical health insights that are essential to understanding your wellbeing. The insightful information they offer is crucial in determining your health condition and can direct the best course of action for preserving or enhancing overall wellness.
Monitoring Treatment Effectiveness: Urine Lab Test in Udaipur is easily accessible and provides a quick approach to receive important health assessments during or before any treatment. It also promote wellbeing and ensure that your vitality is at its peak.
Prevention of Diseases: Regular urine testing is crucial for preventing significant health problems. Early detection  possible issues enables prompt intervention, encouraging a healthy lifestyle and lowering the chance of becoming seriously ill.
Benefits of Booking Urine Lab Tests at Arth Diagnostics
Modern Technology: Modern Technology Arth Diagnostics uses modern technology to ensure quick, accurate, and trustworthy results, emphasizing effectiveness and reliability for your satisfaction.
Experienced Staff: During your testing or sample collection, our highly skilled and trained team entirely commits to make sure you get the best care and services possible.
Convenient Location: Our location, which is conveniently located in the center of Udaipur and has enough of parking, allows patients easy access and a hassle- free visit.
 Home Sample Collection: Arth Diagnostic center, an NABL and NABH certified lab provides inexpensive urine sample collection at the convenience of your home.
How to Schedule an Appointment 
Call us: Call us at +91-81077-53342 to make an appointment for your urine lab test right away. Our courteous staff is always ready to address any queries you might have.
Book Online: You can also book our appointment online through our website. It's quick, essay, and convenient!
Get Accurate and Reliable Results with Urine Testing Lab in Udaipur  – Arth Diagnostics 
Follow us on Facebook – @arthdiagnostics
Expert care successfully treats knee ligament injuries, restoring pain-free mobility & stability, and enabling people to engage in sports and other activities.
Knee Ligament Injury
Damage to one or more of the ligaments that support the knee joint is referred to as a knee ligament injury. The anterior cruciate ligament (ACL), posterior cruciate ligament (PCL), medial collateral ligament (MCL), or lateral collateral ligament (LCL) are frequently injured in these accidents. Accidents, sports, or physical activities frequently involve abrupt twisting or impact, which are considered some of the causes of knee ligament injuries. Pain, edema, instability, and a restricted range of motion are possible symptoms. Treatment options might include rest, rehabilitation, or surgery, depending on the severity. For people to be able to continue their usual activities and involvement in sports, proper care and rehabilitation are essential for regaining knee function and lowering discomfort.
Symptoms of Knee Ligament Injuries
Here are some symptoms of knee ligament injuries:
Cruciate Injury
Damage to the cruciate ligament frequently hurts. Often, when the damage occurs, you can hear a popping sound. When you try to stand on it, it gives way. Moreover, the knee expands. Additionally, you are unable to move your knee normally. Additionally, you can experience joint aches and walking pain. The signs of cruciate ligament damage might resemble those of other illnesses. For a diagnosis, consult your healthcare practitioner at all times.
Secondary Ligament Injury
Collateral ligament damage can also result in the knee popping and buckling. Swelling and discomfort are possible side effects. You will frequently have knee side discomfort and edema where the damage occurred. The inner part of the knee will hurt if the MCL is injured. On the outer side of the knee, discomfort from an LCL injury is possible. Additionally, the knee will feel shaky and as though it could give way.
Diagnosis of Knee Ligament Injuries
Your healthcare practitioner will conduct a physical examination and request your medical history. You could additionally require one or more of the following tests:
X-ray: Instead of ligament damage, this imaging test can rule out a bone injury. It creates pictures of inside organs, bones, and tissues on film using energy beams. Choose Arth Diagnostic Center as your go-to X-ray center in Udaipur.
MRI: In this exam, enormous magnets, radio waves, and computers are used to create precise pictures of the body's organs and architecture. It frequently detects injury or illness in the bones as well as any nearby ligaments, tendons, or muscles. Get this test done at Arth Diagnostic Center, which is also regarded as the best MRI center in Udaipur.
Arthroscopy: This process is used to identify and address joint issues. The medical professional inserts a tiny, illuminated tube (an arthroscope) through a tiny cut (incision) into the joint. A screen displays pictures of the joint's inside. The treatment may evaluate joint issues, identify cancers and disorders of the bones, and determine what is causing bone pain and inflammation.
Testing & Analyzing at Arth Diagnostic Center
The premier diagnostic facility in Udaipur, Rajasthan, Arth Diagnostics, is renowned for its expert diagnosis and medical examinations. It has a solid reputation for providing diagnostic services in Udaipur, including sonography, X-ray, blood and urine tests, 3D color doppler ultrasound, MRI scans, and CT scans. Experienced pathologists, radiologists, microbiologists, immunoassay experts, and technicians make up Arth Diagnostics Center's knowledgeable personnel. The top clinical laboratory in Udaipur, Arth Diagnostics, is accredited by both NABH and NABL. With the only diagnostic center that is accredited by both the US and the EU (Regd No. 65-072-1645), Arth Diagnostics provides top-notch services while adhering to the strictest moral and professional standards.
Get diagnosed for knee ligament injury and pave way for optimal healing and performance only at Arth Diagnostic Center.
Welcome to Arth Diagnostics

Your Trusted Partner for Blood Sugar Tests in Udaipur
As a leading diagnostic center, we exclusively provide comprehensive and accurate Blood Sugar Test in Udaipur, ensuring that your health is in safe hands. Our state-of-art technology, seasoned professionals, and dedicated team members make it easy to handle hundreds of patients. We are the North India's only Diagnostic facility registered with both EU & USA, and the first laboratory to receive NABH & NABL accreditation. We also have earned the reputation as South Rajasthan's best-equipped diagnostic facility.
Comprehensive Blood Sugar Testing Services
To meet the various demands of our patients, we provide a comprehensive range of blood sugar testing services at Arth Diagnostics Center. Our offerings consist of:
Fasting Blood Sugar Test: The test measures the blood sugar level after a rigid 12-15 hours of fasting, where one only needs to drink water and nothing else. After the fasting time is achieved the test results help in identifying whether the patient is having prediabetes or diabetes.
Random Blood Sugar Test: The test is associated with diagnosing diabetes or monitoring glucose levels. This test can be done at any time of the day and no fasting is required.
Oral Glucose Tolerance Test: This test measures the glucose production of the body over time. The test requires the individual to drink a glucose solution, and healthcare professionals then draw blood samples at regular intervals to assess the body's response.
Glycated Hemoglobin (HbA1c) Test: The HbA1c test reveals the information on the average blood sugar levels over the past several months. It is an important tool in managing diabetes and helps in effective treatment.
Importance of Blood Sugar Test
In order to stay healthy and avoid catastrophic consequences from diabetes, routine blood sugar testing is essential. Knowing the significance of blood sugar testing can assist people in making educated decisions about their health and in taking the required actions to properly manage their condition.
Early Detection of Diabetes: For the early identification of diabetes, blood sugar testing, such as random and fasting blood sugar tests, are crucial. Early diabetes detection enables prompt intervention and suitable treatment, lowering the risk of long-term problems.
Monitoring Diabetic Health: Those who have previously been diagnosed with diabetes must undergo blood sugar test in Udaipur to monitor their health and evaluate the effectiveness of their therapy. To keep blood sugar levels within a safe range, regular testing enables patients and their healthcare professionals to make the required changes to medication, food, and lifestyle choices.
Pre-Diabetes & Risk Factors: Pre-diabetes is a condition when blood sugar levels are higher than usual but not yet in the diabetic range. Diabetes test in Udaipur can help diagnose this disease. To prevent or delay Pre-diabetes development make lifestyle changes and take preventative actions as soon as they are discovered.
Overall Health Evaluation: Tests for blood sugar can reveal important information about a person's general health. Increased blood sugar levels may be a sign of underlying medical conditions such hormonal imbalances, pancreatic problems, or the unwanted effects of some drugs.
Customized Treatment: Thanks to accurate blood sugar test findings, healthcare providers can create individualized treatment regimens that cater to the unique requirements of each patient. Regular monitoring enables dose modifications for prescription drugs, nutritional advice, and exercise routines, resulting in the best possible control of blood sugar levels.
Prevention of Complications: Numerous risks, such as heart disease, stroke, kidney damage, nerve damage, and eye issues, can result from uncontrolled blood sugar levels, including these. Regular blood glucose monitoring enables early action to avoid or reduce the risk of these consequences by identifying any anomalies in blood glucose levels.
Lifestyle Changes: Blood sugar testing frequently acts as a wake-up call, motivating people to make healthier lifestyle decisions. By keeping an eye on their blood sugar levels, people may become more conscious of how their food choices, exercise regimen, level of stress, and overall lifestyle affect their health, which may inspire them to make healthy adjustments for improved glucose management.
Arth Diagnostic Center: Your Healthcare Partner
At Arth Diagnostic Center, we recognize the value of preciseness and trustworthiness. To achieve the greatest degree of accuracy in our diabetes screening test in Udaipur, we make investments in cutting-edge technology and machinery. Our team of medical experts commits to providing our patients with the best possible treatment. They possess high skills and extensive experience.
Convenience & Confidentiality
Arth Diagnostics Center values your convenience and time. By reducing waiting times and offering flexible appointment scheduling choices, we work hard to provide timely and effective services. When it comes to the privacy of your medical information, we recognize how crucial confidentiality is. At Arth Diagnostic Center, we adhere to stringent procedures to preserve the security and privacy of our patient's data.
Affordable Healthcare
We think that everyone should have access to high-quality medical care. Therefore, because of this, we make an effort to maintain our prices reasonable and competitive without sacrificing the caliber of our services. Make an appointment for a diabetes health checkup in Udaipur at the Arth Diagnostics Center right now to take charge of your health. Our expert team is here to help you and respond to your inquiries. Furthermore, we promise precise and dependable blood sugar testing services because of our dedication to quality, cutting-edge equipment, and skilled personnel.
For more information or inquiries related to blood Sugar test in Udaipur, please don't hesitate to contact us – +9181077-53342 , +9177259-92990
Follow Us on Facebook – @arthdiagnostics
Udaipur once suffered from a lack of pathology labs, and that was when people were concerned about their diagnosis. However, over time, many labs opened in the city, but not all were NABH or NABL certified. Then Arth Diagnostic came into the picture, being the first NABH and NABL-certified lab in Udaipur to start offering the best diagnostic and pathology services with accurate and timely results. It didn't take much time for Arth Diagnostics to become the best lipid profile test center in Udaipur.
What is Lipid Profile? 
The lipid profile test a.k.a. cholesterol test, or lipoprotein test, is done to determine the concentration of certain fat molecules in the blood. A lipid test quantifies the levels of various triglycerides and cholesterol and measures specific fat molecules as a panel test, including:
Total cholesterol

low-density lipoprotein cholesterol test

High-density lipoprotein cholesterol test

Triglycerides
Lipids are the name for all of these fat molecules. The lipids' job is to carry nutrients that are fat-soluble and energy to the cells. However, having too much fat in the arteries or blood vessels may be very bad for your health. These lipids can accumulate and lead to significant cardiovascular problems. For this reason, it's critical to have a cholesterol test in order to identify any cardiovascular diseases, such as heart attack and stroke, early on.
What is the purpose of the lipid profile test?
Lipid tests, which analyze the level of cholesterol in the blood, are used by medical professionals to find any cardiovascular or other problems. Generally speaking, a lipid profile is used for:
To determine if the cholesterol level falls into the normal or high-risk categories, a regular test is used.

This test will assist in monitoring your cholesterol level if you previously had a heart disease test and the results were abnormal.

Monitoring your reaction to cholesterol drugs and lifestyle modifications will be easier with lipid testing.

Monitoring liver disease will be easier with lipid testing.
When do you need a lipid profile test?
Lipid profile tests are often used by medical professionals for diagnosis, screening, and monitoring purposes. However, there are a number of reasons why your doctor would recommend this test.
Your doctor might advise having this test frequently if you have a high risk of developing cardiovascular disease so that you can identify elevated cholesterol levels before you have symptoms. The following individuals have a greater chance of developing cardiovascular diseases.
If you are a male over the age of 45 and a woman over the age of 50, if any of your parents or a sibling have acquired cardiovascular disease at an early stage, or if you have previously:
Tested high for cholesterol.

A cardiovascular condition

Experiencing high blood pressure

A diabetes or prediabetes diagnosis

Being overweight

Smoking cigarettes

Lacking the necessary physical activity

Not maintaining a healthy diet
You might require a lipid test once a year if you fall into any of these risk categories. If you are older than 65, some health professionals advise having this test performed every year.
Additionally, children may have excessive cholesterol levels, necessitating a lipid profile test in Udaipur prior to puberty. Diet, obesity, and inherited conditions can all contribute to high cholesterol levels in youngsters. According to studies, parents of children with high cholesterol levels are sometimes themselves high-cholesterol individuals.
Why Choose Arth Diagnostics?
Arth Diagnostics, the only diagnostic facility registered with both the US and the EU, provides top-notch services while using cutting-edge technology and the highest ethical and clinical standards. By meeting defined criteria and providing care to millions of patients, the team has accumulated extensive expertise. Arth Diagnostics has quickly established a reputation as South Rajasthan's best-equipped diagnostic facility. Most significantly, Arth Diagnostics is the best diagnostic facility since it has all the latest facilities and equipment. If you have any inquiries, get in touch with us to experience our state-of-the-art facilities, advanced equipment, and expert healthcare professionals. Your health is our priority.
Follow us on Facebook – @arthdiagnostics
Medical imaging plays a crucial role in diagnosing and treating various health conditions. Different imaging techniques, such as X-ray, MRI, ultrasound, and CT scan, are used depending on the type of injury or disease. While all these methods are part of medical imaging, they differ in their mechanisms and purposes. Here, we will discuss the difference between X-ray, MRI, ultrasound, and CT scan, their uses, and their advantages and disadvantages.
X-ray imaging
Definition and mechanism
Ionizing radiation is used in X-rays to provide images of the body's dense tissues, including bones. A little dose of ionizing radiation is given to the patient; this radiation passes through the body and is picked up by an X-ray. An image of the body's internal structure is then created by the X-ray.
Uses
X-ray imaging is mostly used to find bone fractures, dislocated joints, and lung diseases such as pneumonia and tuberculosis. Additionally, it can be utilised to find some malignancies and dental issues.
Advantages and disadvantages
X-ray imaging is quick, non-invasive, and painless.  It does have some disadvantages, like the ionising radiation exposure, which, if used frequently, might raise the risk of cancer.
Magnetic Resonance Imaging (MRI)
Definition and mechanism
A powerful magnetic field and radio waves are used in MRI to provide precise images of the body's soft tissues. A powerful magnetic field is produced by the MRI Scan as the patient is lying on a table that glides inside of it. The hydrogen atoms in the body align in a particular orientation due to the magnetic field, and this alignment is then disturbed by radio waves. The hydrogen atoms send a signal when they reposition themselves, which the MRI scanner detects and uses to produce an image.
Uses
MRI is generally used to identify tumors, multiple sclerosis, and stroke-related issues with the brain and spinal cord. It can also be used to diagnose issues in the muscles, joints, and other soft tissues.
Advantages and disadvantages
MRI does not use ionizing radiation and is considered safe. However, it is more expensive and time-consuming than X-ray imaging. Also, not all patients can have an MRI due to the presence of metal implants, claustrophobia, or other factors.
Ultrasound imaging
Definition and mechanism
Ultrasound imaging uses high-frequency sound waves to create images of the internal organs and soft tissues of the body. A small handheld device called a transducer is passed over the area being examined, and the sound waves that bounce back are used to create an image, it can be 3d/4d Ultrasound.
Uses
Ultrasound is most commonly used in Sonography to track the growth and development of foetus during pregnancy. Additionally, it can be used to detect issues related to the heart, blood vessels, abdomen, and pelvis.
Advantages and disadvantages
Ultrasound is non-invasive, painless, and does not use ionizing radiation, making it safe for both patients and medical professionals. However, due to the patient's body size, the location of the organ being examined, and the presence of gas or air in the body, it may not be able to provide clear images of some structures, such as bones.
Computed Tomography (CT) scans
Definition and mechanism
CT scans use X-rays and computer technology to create cross-sectional images of the body. The patient lies on a table that slides into the CT Scan machine, which takes multiple X-ray images from different angles. The computer then combines these images to create detailed, 3D images of the body.
Uses
Doctors commonly use CT scan to diagnose medical conditions such as cancer, trauma, and heart diseases. CT scan are also valuable in assessing treatment effectiveness and guiding surgical procedures.
Advantages and disadvantages
CT scans provide detailed images of the body and can detect problems that other imaging techniques may miss. However, they use ionizing radiation, which can increase the risk of cancer if used frequently. They are also more expensive and time-consuming than X-ray imaging.
Comparison of X-rays, MRI, ultrasound, and CT scans
Cost
X-ray is generally the least expensive, compared to Ultrasound, MRI, and CT scan, which are much more expensive.
Safety
X-ray imaging and CT scans use ionizing radiation, which can increase the risk of cancer if used frequently. MRI and ultrasound do not use ionizing radiation that is why its considered safe.
Image quality
MRI scan provides the best image quality in comparison to other medical imaging and can detect even small changes in the body's muscles & tissues. CT scans provide detailed images, but not as MRI. X-ray imaging and ultrasound provide less detailed images but are still effective in diagnosing many health conditions.
Procedure duration
X-ray imaging and ultrasound are quick and can be done in a few minutes. MRI and CT scans can take anywhere from 15 minutes to an hour or more.
Diagnostic accuracy
Based on the health condition being diagnosed, healthcare providers consider the strengths and weaknesses of each method to determine the appropriate imaging technique.
In conclusion, X-ray, MRI, Ultrasound, and CT scans are all essential in diagnosing and treating various critical health conditions. Healthcare professionals consider the pros and cons of each technique when choosing an imaging method for diagnosing specific injuries or diseases. It is important to consult with a healthcare provider to determine the best imaging technique for a particular medical condition. You can get all these medical imaging technologies at any good diagnostics center near you.
FAQs
What is the difference between an X-ray and a CT scan?
X-rays use ionizing radiation to create images of bones and other dense tissues of the body, while CT scan uses X-rays and computer technology to create detailed, 3D images of the body.
Can an MRI scan detect all types of tumors?
MRI can detect most types of tumors, but some may not show up on the scan, especially small tumors or those located in areas that are difficult to image.
Is ultrasound safe for pregnant women?
Doctors commonly use ultrasound to monitor the growth and development of the fetus, considering it safe for pregnant women.
How long does a CT scan take?
It is important to consider the type of CT Scan and the part of the body to image. The duration of a CT scan can vary from 15 minutes to an hour or more
There any risks associated with X-ray imaging?
If used frequently the ionizing radiation used by X-ray imaging can increase the risk of cancer. The radiation used in X-ray imaging is usually safe, and the benefits of the test normally outweigh the risks.
Follow Us on Facebook – @arthdiagnostics
As a woman, taking care of your health is paramount to living a fulfilling life. Part of this care includes routine gynecological screenings to ensure that your reproductive system is healthy and functioning optimally. In this article, we'll explore the importance of regular gynecological screenings and what they entail.
What are gynecological screenings?
Gynecological screenings are medical examinations that assess a woman's reproductive system's health. These screenings can help detect diseases and abnormalities such as cervical cancer, ovarian cancer, and sexually transmitted infections (STIs). Women are encouraged to undergo gynecological screenings regularly to detect these conditions early and receive proper treatment if necessary:
Pap smear
One of the most common gynecological screenings is the Pap smear, also known as a Pap test. During a Pap smear, a healthcare provider collects cells from the cervix to test for abnormalities that may indicate the presence of cervical cancer. Women should start getting Pap smears at the age of 21 and continue every three years until the age of 29. After that, the screening is recommended every five years, along with an HPV test.
Pelvic exam
Another gynecological screening is the pelvic exam, which checks for abnormalities in the reproductive system. During the exam, the healthcare provider inspects the uterus, ovaries, and fallopian tubes for any issues. Pelvic exams are recommended for women aged 21 and older.
STI testing
STI testing is also a crucial part of gynecological screenings. It involves testing for sexually transmitted infections such as chlamydia, gonorrhoea, and herpes. Healthcare providers may perform STI tests during pelvic exams or Pap smears.
Importance of Regular Gynecological Screenings
Regular gynecological screenings are important for many reasons, some of them are:
Early detection of conditions
Gynecological screenings can help detect conditions early, allowing for proper treatment and better results. For example, early detection of cervical cancer can lead to a higher chance of survival for the patient.
Prevention of conditions
Gynecological screenings can also help prevent severe conditions such as cervical cancer. The human papillomavirus (HPV) vaccine is a preventive measure that can be administered to girls and boys as young as 9 years old to prevent HPV infection, which can lead to cervical cancer.
Better reproductive health
Gynecological screenings can help ensure that women's reproductive system is functioning optimally. If there are any issues, the healthcare provider can provide treatment to help improve your reproductive health.
Improved overall health
Taking care of your reproductive health is an essential part of taking care of your overall health. Regular gynecological screenings can help identify and address issues before they become more severe, leading to better overall health.
How often should women get gynecological screenings?
The frequency of gynecological screenings depends on a woman's age and health history. Generally, women should start getting Pap smears at age 21 and continue every three years until age 29. After age 30, women should get a Pap smear every five years along with an HPV test. Women who have had abnormal Pap smears or a family history of cervical cancer may need more frequent screenings.
Conclusion
Importance of Regular gynecological screenings are a crucial part of women's health. These screenings can help in the early detection of conditions, the prevention of diseases, improving reproductive health, and improving overall health. Women are encouraged to talk to their healthcare providers about gynecological screenings and create a screening schedule that works best for them.
Also Read:- Why you should go for regular health checkups?
Frequently Asked Questions
What happens during a Pap smear?
During a Pap smear, a healthcare provider collects cells from the cervix to test for abnormalities that may indicate the presence of cervical cancer.
Is the HPV vaccine effective?
Yes, the HPV vaccine is effective in preventing HPV infection, which can lead to cervical cancer. It is recommended for girls and boys as young as 9 years old.
Is it normal to feel uncomfortable during a pelvic exam?
It is common to feel a little discomfort during a pelvic exam, but it should not be painful. If you experience pain during the exam, be sure to let your healthcare provider know.
What should I expect during an STI test?
During an STI test, the healthcare provider will collect a sample of bodily fluid or tissue to test for sexually transmitted infections. This may involve a blood test, urine test, or swab of the affected area.
Can I skip gynecological screenings if I feel healthy?
Even if you feel healthy, it is important to undergo regular gynecological screenings to ensure that your reproductive system is functioning optimally and to detect any issues early.
Nutrients are essential components that our body needs to function properly on a regular basis. In simple words, they are substances that are present in our food and are required for the growth, repair, and maintenance of our body. A balanced diet containing all the necessary nutrients is important for good health. In this article, we will discuss the requirements for nutrients and their sources.
Nutrients
The human body needs a range of nutrients in order to stay healthy and work properly. The six main categories of nutrients are water, carbs, proteins, fats, vitamins, and minerals. In this post, we'll mostly concentrate on the vitamins and minerals required for maintaining a healthy physique.
Vitamin A
An essential fat-soluble vitamin for the immune system, eyesight, and reproduction is vitamin A. For men, the daily requirement for vitamin A is 700–900 micrograms, whereas for women it is 600–700 mcg. Liver, eggs, milk, spinach, sweet potatoes, and carrots are food sources of vitamin A.
Vitamin B12
The creation of DNA, the generation of red blood cells, and the health of the brain system all depend on the water-soluble vitamin B12. 2.4 milligrames of vitamin B12 are required by adults per day. Foods containing vitamin B12 include dairy products, fortified cereals, meat, fish, and chicken.
Vitamin C
A water-soluble vitamin called vitamin C is necessary for the development and maintenance of bodily tissues. Also, it strengthens the immune system and promotes iron absorption. The recommended daily intake of vitamin C for men is 90 milligrams, compared to 75 milligrams for women. Citrus fruits, strawberries, kiwis, broccoli, and bell peppers are some of the foods high in vitamin C.
Vitamin D
Vitamin D, a fat-soluble vitamin, is essential for the immune system's function, strong bones, and calcium absorption. A daily intake of 600 to 800 international units of vitamin D is advised (IU). Among the sources of vitamin D are sunlight, fatty fish, egg yolks, and fortified foods like milk and cereals.
Vitamin E
The fat-soluble vitamin E defends both cell membranes and the immune system. A daily dose of 15 milligrams of vitamin E is required for adults. Vitamin E can be found in leafy greens, nuts, seeds, and vegetable oils.
Explore:- Common Vitamin Deficiencies
Calcium
A mineral called calcium is crucial for the development and upkeep of healthy bones and teeth. Moreover, it affects blood coagulation, neuron transmission, and muscle contraction. For adults, a daily calcium requirement of 1000–1200 mg is recommended. Dairy products, leafy greens, and fortified foods like soy milk and orange juice are some sources of calcium.
Iron
The mineral iron is crucial for the production of red blood cells and the movement of oxygen throughout the body. For men, the daily requirement for iron is 8 milligrams, while for women it is 18 milligrams. Meat, poultry, fish, beans, and fortified grains are sources of iron.
Explore:- Reasons for iron deficiency in women & children
Phosphorus
A mineral called phosphorus is crucial for the development and upkeep of healthy bones and teeth. Also, it affects how the body uses its energy. For adults, 700 mg of phosphorus per day is necessary. Dairy products, meat, fish, and nuts are sources of phosphorus.
Potassium
The mineral potassium is crucial for the control of fluid equilibrium, muscle contraction, and nerve messages. For adults, a daily potassium requirement of 2000–3000 mg is necessary. Bananas, leafy greens, potatoes, and beans are among the foods that contain potassium.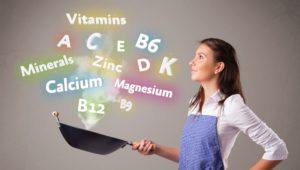 Magnesium
Magnesium is a mineral that is crucial for controlling blood pressure, blood sugar levels, and muscle and neuron function. Adults need between 300 and 400 mg of magnesium daily. Nuts, seeds, whole grains, and leafy greens are sources of magnesium.
Sodium
The mineral sodium is crucial for the control of fluid balance and neuronal function. However an excessive salt intake might result in high blood pressure and other health issues. A human needs less than 2300 mg of sodium per day. Salt, processed meals, and canned foods are some of the sources of sodium. (more…)
People all across the world have been quite concerned about infectious diseases. They can spread swiftly from person to person and be extremely contagious, leading to serious sickness or even death. So, in order to take the required precautions, it is imperative to be aware of the symptoms, causes, and treatments of the most common infectious diseases. We shall thoroughly examine a few of the most prevalent infectious diseases in this article.
Influenza
The viral infection known as influenza, or "the flu," attacks the respiratory system. When an infected person coughs or sneezes, the flu can travel through the air and be quite contagious. Fever, cough, sore throat, runny nose, body aches, and weariness are some of the signs of influenza. In extreme circumstances, it can result in pneumonia or even death. The best method to prevent influenza is with a flu shot. Everyone over the age of six months is advised to get the vaccine, but young children, expectant mothers, and those with ongoing medical issues should pay extra attention.
Tuberculosis
A bacterial infection called tuberculosis mainly affects the lungs but can sometimes spread to other parts of the body. When a person with tuberculosis coughs or sneezes, the germs that cause the disease travel through the air. Weight loss, a cough, a fever, and night sweats are some of the signs of tuberculosis. Taking antibiotics for at least six months is part of the treatment for tuberculosis. To prevent the bacteria from spreading to others, those who have TB should take precautions.
Hepatitis
A viral infection known as hepatitis damages the liver. Hepatitis comes in a variety of forms, including as A, B, and C. Whereas hepatitis B and C are transferred by the interchange of physiological fluids including blood, semen, and breast milk, hepatitis A is spread through contaminated food or water. Fatigue, nausea, abdominal discomfort, and jaundice are hepatitis symptoms. Liver cancer and chronic liver disease are possible outcomes of hepatitis B and C.
You can use vaccines to prevent hepatitis A and B. While hepatitis C cannot be prevented through vaccination, antiviral drugs can control the virus and prevent liver damage.
HIV/AIDS
A virus called HIV/AIDS assaults the immune system. Blood, sperm, and breast milk are just a few of the biological fluids that can carry the virus. Fever, exhaustion, swollen lymph nodes, and weight loss are all signs of HIV. Acquired immunodeficiency syndrome (AIDS), a disease in which the immune system is severely weakened, can be caused by HIV. HIV/AIDS cannot be cured, although antiretroviral drugs can help control the infection and stop it from spreading.
Malaria
People contract the parasite disease malaria through the bite of an infected mosquito. Fever, chills, headaches, and body pains are some of the signs and symptoms of malaria. In extreme circumstances, organ failure and death may result. Travelers to tropical and subtropical places run a higher risk of contracting the disease because these are where it is most common. Controlling mosquitoes and using antimalarial medication are two prevention strategies.
Zika
People contract the Zika virus through mosquito bites. Fever, rash, joint pain, and red eyes are among Zika's signs and symptoms. Infected moms can also give birth to children who have birth problems. Controlling mosquitoes and avoiding travel to regions where Zika outbreaks are occurring are prevention measures.
Conclusion
Infectious diseases are a significant public health concern globally, and taking necessary precautions can prevent their spread. It is important to stay informed about the symptoms, causes, and treatments of infectious diseases. Prevention methods such as vaccination, mosquito control, and proper hygiene practices can help reduce the risk of infection. If you suspect that you have an infectious disease, seek medical attention promptly to prevent complications and the spread of the disease. You can also visit your nearest diagnostic center for a regular health checkup which will keep you one step ahead of any disease & aware.