Arth Diagnostics has recently installed the best-quality picture tube in the CT machine, which allows the patient to get high-quality image reports with low radiation. The picture quality of the CT Scan process depends on its picture tube. Despite this advanced facility, the HRCT Scan is available at government-fixed rates of 1700 rupees only.
High-Resolution CT at Government Rates 1700/- only
If you notice any symptoms of pneumonia, such as coughing, chest pain, and problems breathing, then you should see the doctor immediately and get the HRCT done to determine whether you have pneumonia or not.
In current days, the cold is increasing, and simultaneously, the risk of getting pneumonia is also increasing. The symptoms of pneumonia are similar to those of the simple flu, but it is more dangerous than the simple flu. The right way to deal with pneumonia is to diagnose it at the right time. At present, HRCT is the most accurate test for the detection of pneumonia at a preliminary stage. The HRCT test shows the score of the pneumonia infection in the lungs so that the right treatment can be started immediately. It helps to prevent future damage.
Watch this video:
There are some professional and best CT Scan service providers in Udaipur. Arth Diagnostics, one of the best and most popular CT scan centers in Udaipur, provides high-Resolution CT scan services at government-fixed rates of 1700 rupees. High-Resolution CT (HRCT) scans are now being used in almost all lung diseases, such as interstitial lung diseases, asthma, COPD, tuberculosis, etc. The HRCT Scans are able to give more details than conventional X-rays and become an asset to the patient's diagnosis. At arth diagnostics, we provide high-Resolution CT scan services at government-fixed rates of 1700 rupees only. We have our own big-size CT machine facility with the latest technology. So get a quick consultation from our expert radiologists and experience the best service at a reasonable cost.
It is very important to diagnose the disease correctly for the patient to receive the right treatment at the right time. An accurate diagnosis depends on the quality of the diagnostic equipment. Arth Diagnostics Center has launched the most advanced MRI machine, a 1.5 Tesla MRI in Udaipur, Rajasthan. There is the most advanced diagnostic equipment. The center has won many prestigious awards for its quality service and advanced healthcare facilities. This modern MRI has many advanced features. This MRI imaging technology is being introduced for the first time in Udaipur, Rajasthan.
1.5 Tesla MRI in Udaipur
Currently, this type of advanced MRI scan is only available in metro cities, and the cost of this scan is around 12000 to 15000 rupees. However, at Arth, patients can get this advanced MRI scan done at a very low price, around 4000 to 7000 rupees. This is the in-bore MRI machine that gives patients an amazing experience. A whole-body MRI scan is possible in this MRI machine, but it is impossible in normal MRI machines. A whole-body MRI scan will help detect disease or abnormalities in any part of the body at a very early stage. This is based on digital technology, whereas a normal MRI machine is based on analog technology. Thus, it is very important.
Dr. Arvinder Singh (CEO and CMD of Arth Diagnostics) says that patients experience claustrophobia, fear, and noise irritation in this MRI machine. But this MRI machine prevents all the problems. This MRI has virtual reality with music. The patient can also see videos of their choice and have a relaxing experience. It is a silent MRI machine. The patient does not feel any type of discomfort in this MRI machine. Now, MRI has become an easy process for patients. Dr. Singh says that this MRI scan will be important in the diagnosis field.
Watch This Video:
From the last month, Coronavirus has become a hot topic of discussion in India. Every day, we are hearing about newly reported cases of Coronavirus in news channels and newspapers. Some news are just rumors and some are real facts. The purpose of writing this article is to give clarity on Coronavirus.
The origin of Coronavirus in China. The first case of coronavirus was first reported in December 2019 in Wuhan, a Chinese city. Now the disease has spread all over China. People living in China are highly susceptible to Corona Virus. In India, checking systems have been implemented in airport areas. People who are traveling back from China are being checked at various airports by Indian Security System.
Let us break out the article into small subparts to know each thing about the Coronavirus. The information structured in this article is taken from many authentic sources. The main source of this article is the World Health Organization.
What is Coronavirus?
The recent coronavirus is COVID-19. Scientists are continuously researching on this. Researchers found that it is spreading from the seafood market in Wuhan because some people who visited the seafood market developed viral pneumonia caused by COVID-19. However, later it was detected that the first reported case of coronavirus was on 1 December 2019 and the person has no link with the seafood market. Scientists are working hard to find the exact cause of coronavirus.
Symptoms of Coronavirus Disease
The symptoms of coronavirus are difficult to identify. Its common symptoms are fever, cold, cough, running nose, difficulty in breathing. In most severe cases, coronavirus can cause the acute respiratory syndrome, pneumonia, kidney failure, and even death. The symptoms are similar to normal cold and flu. A laboratory test is helpful for the early diagnosis of the disease. If you have a cough, fever, and breathing difficulty then you should immediately consult the doctor.
Currently, there is no specific treatment for coronavirus. Scientists are still working on the treatment of Coronavirus. The disease is spreading faster. People who died of Coronavirus have pre-existing who also have a weak immune system and medical problems. People should apply preventive methods to get protection.
Prevention Methods from Coronavirus
When it comes to disease, prevention is better than cure. Appropriate prevention methods will also protect you from the disease. Prevention methods are the followings:
Preventive Tips are as follows:
Washing hands frequently with soap is important. About 30 percent of people do not wash hands after using the washroom. Especially if you are using public washrooms you should take care of hygiene.
Maintain at least 3 feet distance from the people who are suffering from cough, sneeze, and fever. When someone is affected by cough and sneeze they project small droplets containing the virus. If you are too close to the persons and breathe then the viruses enter our body and make you sick.
If you are suffering from cold, sneeze and fever then you should cover your mouth. Use paper tissue instead of cloth handkerchief. Do not overuse the paper tissue. Avoid touching eyes, nose and mouth.
You should eat a completely cooked meat and eggs.
You should be attentive especially if you have recently traveled back from China in 2019 when Coronavirus was reported.
Coronavirus in India 
From India, Many students are studying in China. Many Indians are also working in Chinese cities. According to the Economic Times, 3 cases of coronavirus also reported in India. People were from Kerela. All three patients had some kind of relationship with China. In those cases, one was a student studying in Wuhan, China. It was the first case of Coronavirus in India. Now, the condition of all patients is stable. In India, health authorities are screening each passenger coming from China at airports.
With great pleasure we share that Arth Diagnostic private limited has been ranked as the Top Diagnostic center of South Rajasthan. Dr. Arvinder Singh, the CEO and CMD of Arth Diagnostics received the award in Jaipur by the honorable Health Minister Shri Raghu Sharma. Arth got award on the basis of various parameters such of superior quality of diagnostic services at affordable prices, use of advance diagnostic equipments, quality management system, customer services, digital reports, high ethical standards, etc.  Arth is the first centre of having 3 Tesla MRI in the South Rajasthan.
Here, patients can get all types of diagnostic facilities such as Pathology, Radiology, Immunology, Microbiology, etc., are available under one roof. Moreover, it also provides preventive health care packages at reasonable low cost.The medical reports of Arth Diagnostic are also valid in metro cities like Ahmadabad, Mumbai, Delhi, etc.

Award of Top Diagnostic Center
Arth Diagnostic is a leading diagnostic center and the fastest growing center in South Rajasthan. It is famous because its quality medical reports, best patient service, availability of advance diagnostic equipment, etc.  Previously, Arth has won various prestigious awards such as Most Promising Brand Award by Economic Times, Best Diagnostic Center Award by 92.7 Big FM, and UCCI  Excellence Award, etc. The award of 'Top Diagnostic center in South Rajasthan' is again a great honour for Arth.
Every year, UCCI recognizes entrepreneurs' efforts by honouring the best-performing enterprises. This year Arth Diagnostics center won UCCI Excellence Award 2018 in services – medium enterprises category. The diagnostics center received the prestigious award for being the best in diagnostics services.
Arth Diagnostics is one of the leading diagnostics centers in Rajasthan. Arth Diagnostics is the first and only centre registered with US and Europeon Union. The center is quality endorsed by AIIMS, New Delhi and Randox UK. This laboratory is particularly operated by team of highly qualified, skilled and experienced professionals. Moreover, Arth diagnostics center is proud to have National Accreditation Board for Hospitals & Healthcare (NABH) certification and is one of the few NABH certified lab in Rajasthan. Arth diagnostics center is committed to deliver the best in diagnostics services for the best treatment of patients.
UCCI Excellence Award 2018 For Best in Diagnostics Services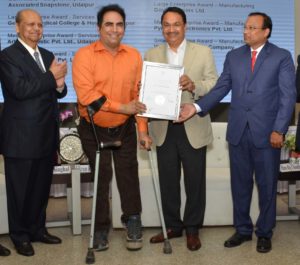 Arth Diagnostics center got UCCI Excellence Award 2018 on the basis of certain important parameters such as patients' satisfaction, quality of diagnostics reports, growth rate, best in diagnostics services, employees' satisfaction, external quality assurance, accuracy of reports and many other relevant parameters.  Dr Arvinder Singh, the CEO and CMD of Arth Diagnostics received UCCI Award by some of the most honourable core community members.
Arth Diagnostics center cater the needs of patients and doctors by offering innovative services such as home sample collection, pick up service, web reporting, high tech international diagnostics equipments availability, customer care helpline facility, etc. This diagnostics center particularly gives emphasis on providing best in diagnostics services to all age groups. The diagnostics center has most advanced machineries from the leading international brands.
Arth diagnostics center has availability of advanced clinical diagnostics tests which form basis of accurate treatment. Hence, it has become preferred choice of patients and doctors. At Arth Diagnostics center accurate and reliable diagnostics facilities are provided at affordable prices to its growing customer base. Currently, it has become the best in diagnostics services center in Rajasthan.
Arth Diagnostics center – Best in Diagnostics Services
Arth Diagnostics center also conducts periodic training of staff members to keep them updated with latest technologies. The staff members are particularly highly skilled and experienced. They are committed to provide the best in diagnostics services to all patients. The team members have got rich experience by serving millions of patients. Highly trained clinical staff and the modern diagnostics equipment ensure that Arth Diagnostics center to provide excellent and reliable services at all the times. The laboratory particularly aims to maintain the high quality reports and shortest turnaround time to maintain healthy customer relationship.
Arth Diagnostics center has strong focus on modern technologies that enable the laboratory to give the patients the best in diagnostics services. UCCI Excellence award is a great honour for this diagnostics center. This diagnostics center has also received various prestigious awards for its quality, standard and services.
State Award to Arth Diagnostics by Industrial Minister in Gracious Presence of Chief Minister
Arth Diagnostics received the State Award for the quality services and patient satisfaction.
Arth diagnostics is known for its best services and innovation abilities.
State award parameters were the quality of diagnostic reports, patient satisfaction, the introduction of latest technologies, timely delivery of reports, external quality assurance programs and many other relevant parameters.
Arth Diagnostics has 3 Tesla MRI, CT Scan and all other latest tests including pathology tests, sonography, digital X-ray etc.
Arth Diagnostics launches first 3 Tesla MRI in Udaipur, Rajasthan
First MRI in Udaipur for best image quality
Diagnosis of tumor and cancer patients become easy
Udaipur: Arth Diagnostics in joint association with Gujarat Imaging Company of Ahmedabad launches best diagnostic imaging tool. Magnetic Resonance Imaging (MRI) is the highest possible imaging tool to diagnose and see inner part of human body.
 Dr. Arvinder Singh, CMD and CEO of Arth Diagnostics told that it will lead to the breakthrough in diagnostic services in Udaipur. He shared that there are different types of MRI available in the market like 0.2, 0.5, 1.5 Tesla. But it is 3 Tesla MRI which supersedes all in terms of magnetic field strength which can diagnose any disease with high sensitivity and specificity
The patients will be benefited:
Same cost with better quality is the uniqueness of Arth Diagnostics. Patients will be getting 3T MRI report without paying anything extra.
Spine problems will be diagnosed easily.
Brain Tumor and cancers will be diagnosed at initial stage with better accuracy.
Joints like knee joint, shoulder joint etc. can be diagnosed with better accuracy.
Other facilities are https://arthdiagnostics.com/services
About Arth Diagnostics:  Arth Diagnostics is best diagnostic center of Udaipur and is an establishment with more than decade old experienced team comprising of qualified and experienced Pathologists, Radiologists, Immunoassay Experts, Microbiologists and technicians. https://arthdiagnostics.com/