Arth Diagnostics Launches 3D Digital Silent MRI in Udaipur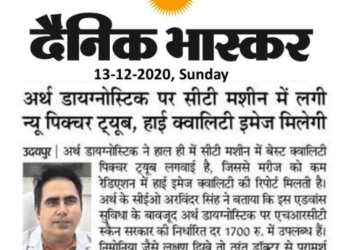 It is very important to diagnose the disease correctly for the right treatment of the patient at right time. Accurate diagnosis depends upon the quality of the diagnostic equipment. Arth Diagnostics center has launched the most advanced MRI machine  3D Digital Silent MRI in Udaipur, Rajasthan. There is most advanced diagnostic equipment The center has won many prestigious awards for its quality service and advanced healthcare facilities. This modern MRI has many advanced features. This MRI imaging technology is introduced First Time in Udaipur Rajasthan.
3D Digital Silent MRI in Udaipur
Currently, this type of advanced MRI scan is available in metro cities only and the cost of this scan comes around 12000 to 15000 rupees. However, at Arth, the patients can get this advanced MRI scan done at a very low price around 4000 to 7000 rupees. This is the in-bore MRI machine that gives an amazing experience to the patients. The Whole body MRI scan is possible in this MRI machine, but it was impossible in normal MRI machines. A whole body MRI scan will help to detect disease or abnormality in any part of the body at a very early stage. This is based on digital technology, where a normal MRI machine is based on analog technology. Thus it is very important
Dr. Arvinder Singh (CEO and CMD of the Arth Diagnostics) says that patients experience claustrophobia, fear, and noise irritation in this MRI machine. But, this MRI machine prevents all the problems. This MRI has a virtual reality with music. The patient can also see videos of their choice and get a relaxing experience. It is a silent MRI machine. The patient does not feel any type of discomfort in this MRI machine. Now, MRI has become an easy process for patients. Dr. Singh says that this MRI scan will be an important thing in the diagnosis field.
Watch This Video: