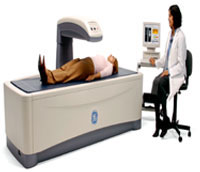 Bone Mineral Density
DEXA technique.
Reveals bone strength and mineral density.
No cuts and blood samples needed.
Whole body scanning also available.
No harmful radiations.
Body Composition Analysis
Fitness score first time in a Diagnostic Center
Eight point multi-frequency Multi Tactile Bioelectrical Impedance Technology.

MEASURES

BMR
Body Fat Mass
BMI
Fitness score
PBF
Segmental analysis
SMM
Total Body water
Visceral Fat, etc.
NOT DONE FOR PATIENTS WITH PACE MAKER, STENT AND STEEL ROD.
STRESS TEST
TMT machine.
Examines heart performance during physical activity of a patient.
In presence of a physician.
High Definition Sonography
Premium ultrasound with extraordinary vision.
Deeper and accurate study.